Nestled in the #1 Customized Training Leader in the US
*
The localities in the Southern Virginia Regional Alliance collaborate to create a strong economy that enhances the region's tax base and maintain a high standard of living and sustained quality of life for our citizens, while sharing this vision and opportunity with others that can contribute to these outcomes.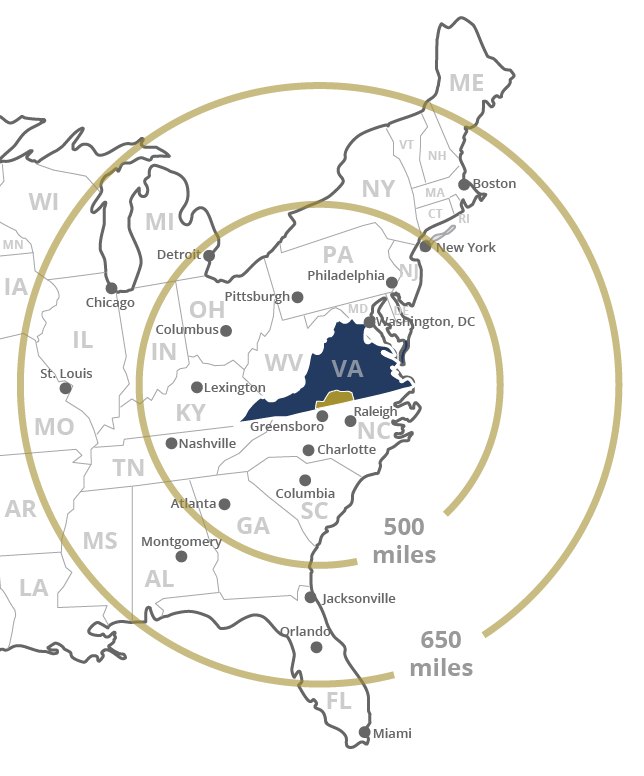 | | | |
| --- | --- | --- |
| Market | Distance | Drive Time |
| Charlotte, North Carolina | 141 miles | 2.5 hours |
| Richmond, Virginia | 145 miles | 2.5 hours |
| Washington, DC | 247 miles | 4.5 hours |
| Charleston, SC | 327 miles | 5 hours |
| Atlanta, Georgia | 386 miles | 6 hours |
| Philadelphia, Pennsylvania | 386 miles | 7 hours |
| Columbus, Ohio | 411 miles | 7.5 hours |
| New York City, New York | 514 miles | 9 hours |
| Detroit, Michigan | 613 miles | 10 hours |
| Mobile, Alabama | 705 miles | 10.5 hours |
| Miami, Florida | 840 miles | 13.5 hours |
Southern Virginia lays the foundation for your success..
Smart Asset Ranking: #1 Top States for Higher Education, #1 in the Nation for Continuing Workforce Training Advantage, 2023 CNBC Ranking: #2 Best State for Business 

29 VEDP-certified shovel ready sites with 25 acres+, shell buildings 27K – 100K SqFt 

Southern Virginia Megasite – Home to one of the largest certified Megasites on the East Coast 

Low cost of living with stable taxes 

Innovative workforce training facilities & programs 

More than 40 colleges & universities within a two-hour radius 

Unique offering of quality-of-life assets 
Improve your bottom line just by locating your business in Southern Virginia.
Building costs in Southern Virginia are approximately 20% below the national average.
Virginia's 6% corporate income tax rate hasn't increased in over 40 years.
Our unemployment insurance tax rate is the 6th lowest in the US, and 12% lower than the national average.
We have one of the lowest average worker's comp costs in the US, and Virginia has consistently been among the lowest cost states for over 15 years.
The average cost per unit of electricity for the industrial sector was 6.65 cents in Virginia, compared to 7.21 cents for the nation.
Real property, machinery and tools, and business equipment are taxed at the local level; our favorable tax rates reflect our commitment to keeping business operating costs low.
Get more information on each locality's tax rates:
Highways/Interstates
Within a day's drive to over 60% of the United States population and more than two-thirds the U.S. industrial base.
Four 4-lane divided highways connecting to six interstates within an hour's drive & I-785 connects the region to the I-40/I-85 corridor.
Air
3 regional airports, 2 with 5,000 ft. runways.
3 domestic/international commercial airports within 2.5 hours (GSO – 40 minutes, RDU – 75 minutes with international flights to London, Paris, Germany and Ireland).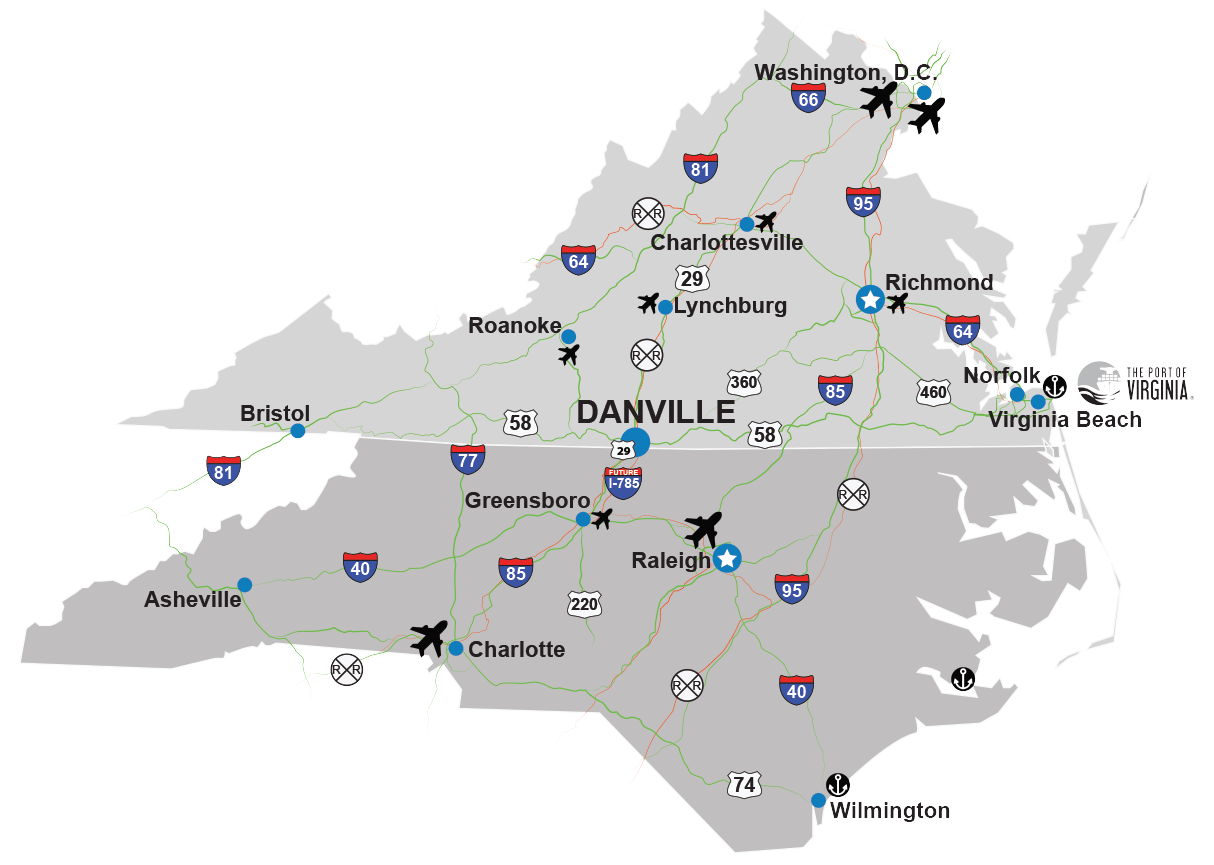 Rail
Served by Norfolk Southern Railroad & international services in the 45-mile radius of Norfolk Southern and Greensboro.
Currently over 30 rail served sites and buildings on the market.
Norfolk Southern intermodal facility within one hour drive offering direct service to Port of Virginia.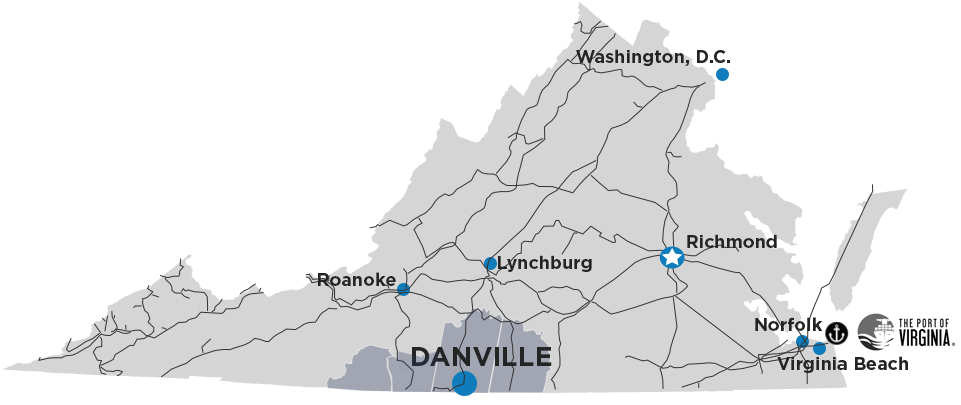 Port
The Port of Virginia, the largest cranes and deepest & widest port on the US East Coast, is approximately 4 hours by highway from the center of the region.
Accessible by U.S. Highway 58.
Prepared for the next generation of shipping with 50-foot inbound/outbound obstruction-free shipping channels with two-way traffic and low turn times.
Norfolk Southern intermodal facility within a 1-hour drive, offering rail service directly to the Port of Virginia.
For more information on the Port of Virginia and its services and other facilities, click here.